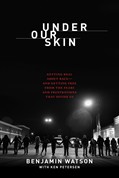 Here is my disclaimer: I am a huge New Orleans Saints fan and did read Benjamin Watson's Facebook post after Ferguson and was amazed by his writing. These are two of the reasons I picked this book to review. I was not disappointed at all.
Each chapter of Under Our Skin deals with Mr. Watson's facebook post. The titles are:
Angry,Frustrated, Fearful, Embarrassed, Sad, Sympathetic, Offended, Confused, Introspective, Hopeless, Hopeful, and Encouraged. This book expands on his thoughts about serious and troubling issues facing America today. How can Americans with different skin tones relate to one another? The author wants people to have serious, healthy discussions on race and racism. When we focus on another persons skin, we miss the reality of our own sin. The times we have judged others and the bias and prejudice in our own hearts. Wow, these are powerful words that make self examination hard but needed. The author shares many personal experiences and wisdom he has learned. A quote from the book. "Individually we may feel as if there's not much we can do. But maybe we underestimate what God can do through us".
Under Our Skin helped me as an older white female to really see inside someone with black skin. Benjamin Watson helped me grasp his thinking, motives, prejudges and the perception black people feel in a "white world". This is a book I will re-read just to remind myself that change can start with me. A must read for everyone because we are all on planet earth to get along. "God gives race a new meaning, it's called the human race, may we always remember this".
Thanks to Tyndale Publishers for this free copy to review just for my honest opinion.