Amy Sorrells does it again!!. She has created a masterpiece in her latest book, Before I Saw You.
I was blessed to read and review her third novel, Lead Me Home and loved her writing so much that I read her first two also. Was thrilled when this came out and was able to read and review this one. I guess you could say..I love her writing!!. This book in one word for me is..Heart warming.
The cover really catches your eye plus what is written on it. The world is trying to break her, but grace will set her free.
Hope means everything when you've got nothing, and hope's all I have when I leave my brother, Jayden, to check on the baby rabbits. The first sentence pulled me in and I found this story tugged at my heart and how friends come alongside when your family is non-existent. Jaycee Givens lives in an area most people would call "trailer trash", but she makes the best of it. Her mother is ravaged by the heroin epidemic and ends up in prison so Jaycee is all alone. Add to this, is an unplanned pregnancy and the baby's abusive father is not happy about it. Her neighbor, Sudie is her refuge and helps her see the greater purpose in choices she needs to make for her unborn child. There is also Gabe who is new to town and is kind to her, only wants to help her..but her walls are up and she trusts no one. Can she trust the friends closest to her to help her reconcile with her mother and the hard choice she needs to make of hanging on or letting go?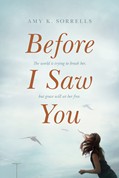 The characters in the story were the kind you laughed with and cried with which made me fall in love with her writing again with this book. This is one book I will read again because it was that Good!!
Make sure you pick up Amy Sorrells books and you will say that they are that Good!!
Thanks to Tyndale Publishers for my free copy to review with my own opinions.