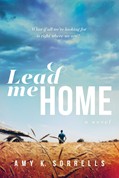 It is interesting how we pick out books to read. Sometimes it is the cover, often it is a favorite author and sometimes the story line is very intriguing. What prompted me to pick out Lead me Home by Amy Sorrells was a quote on the front cover. "What if all we're looking for is right where we are"?. That really made me curious what this book was all about and what I found was a story that captivated me from page one to the end.
I found this book to be interesting because of the plot but also because she is an Indiana author and I live and hour away from her. Many of her locations I know and some were in my own home town. That really kicked it up a notch for me. I felt a part of the story that I have never felt in all the books I have read.
Lead me home follows two main characters: Noble Burden who runs his family's dairy farm and James Horton a pastor of a church ready to close it's doors. Noble had to grow up quickly, especially since he had an abusive father who finally just left the family to fend for themselves. He has a brother, Eustace, who is autistic and that challenges Noble to be the head of the family and make decisions about the farm. He also has a love for music and would love to fulfill that dream in Nashville. He has a chance, but can he walk away from responsibilities?
Pastor Horton has different challenges: a church he was a pastor for 20 years that is closing up for good. He is a single parent to a wayward child, Shelby, since his wife died. She wants to do her own thing and James worries about her choices/consequences. Shelby and Noble have been childhood friends and he would like it to be more, but she is not interested. A severe storm rolls through, threatening their community and very livelihood. Will both Noble and James lose what they care about most and figure out where they truly belong? I hope this question piques an interest in reading what happens..you will be very glad you did.
Thanks to Tyndale Publishers for this free copy just for my honest opinion.
http://files.tyndale.com/thpdata/FirstChapters/978-1-4964-0955-3.pdf