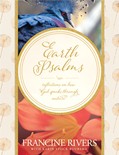 Wow, what a book!. Francine Rivers writes wonderful fiction books, so when this book became available, I quickly decided this will be my next book. I knew it would be good, but excellent is more the description I would give it.
It is a 52 week devotional that blends scripture, glorious pictures, a reflection, prayers, an application and a connection with God for each week. I will confess that I went through the whole book and not a week at a time. I will start in January and do a weekly devotional, but this book kept me so engrossed that I just kept reading. Francine Rivers shares observations that she has gathered exploring both in her backyard and abroad. She reflects how this might apply to your daily life. One of my favorites was on week 42 and the Power of Two. Telling how horses stand parallel to each other with tails swishing to keep the flies from each others eyes. Then in Luke 10, Jesus sends 72 of His followers in groups of two as to offer encouragement to each other. We need to partner with other believers so we can do the work the Lord has set before us. There is always a interesting tidbit with the pictures. This one told that a horses' eyes are on the sides of their heads, they have an almost 360-degree range of wisdom.
This is just a beautiful, well written, interesting and a wonderful way to start each week with the Creator and discover His power, His attention to detail, His love for you and it is all around us, if we just open our eyes to it. I do hope you will pick this book up, you will not be disappointed.
Thanks to Tyndale Publishers for my free copy just for my honest opinion.
http://mediacenter.tyndale.com/downloads/press_kits/EarthPsalmsInterviewQuestions.pdf
https://files.tyndale.com/thpdata/firstChapters/978-1-4964-1485-4.pdf
http://files.tyndale.com/thpdata/authorphotos/amazon/539/pic_full_Rivers_Francine.jpg